Headquartered in Aruba and serving island communities throughout the Caribbean, Rotech Technical Services provides an array of services to both residential homes and commercial buildings related to electrical engineering and wastewater treatment systems. Whether it's the electrical wiring or re-wiring of a single residential home or a huge resort, Rotech has established a solid reputation for getting the job done right. Rotech is currently seeking qualified candidates for the following positions:
Electrical CAD Design and Drawing at Rotech Aruba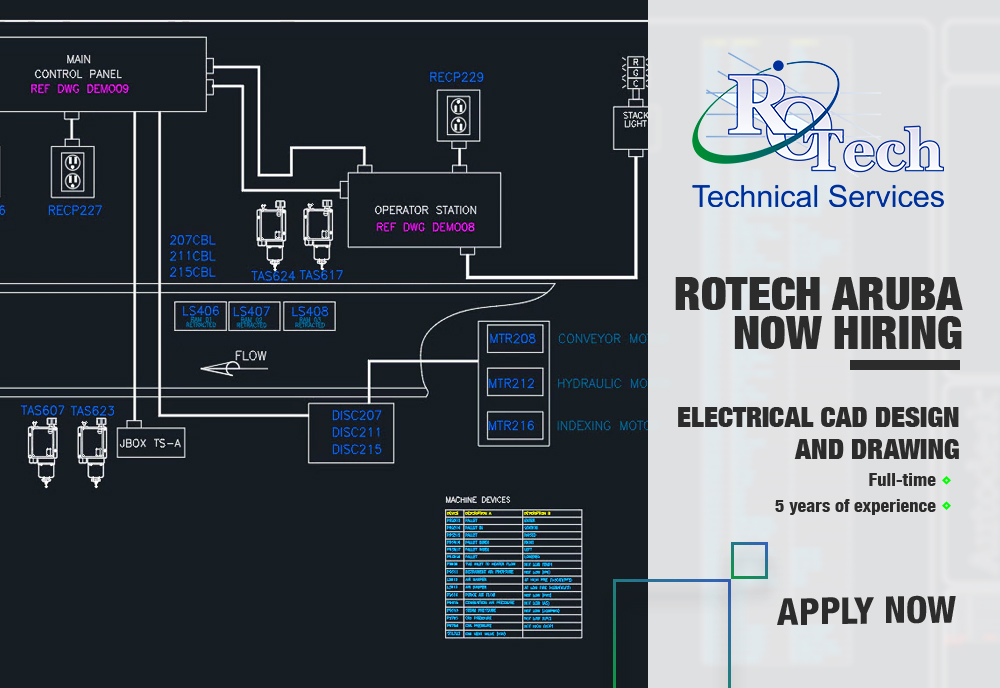 We're looking to hire a full-time person to help with our growing list of client projects. Successful candidates will have at least 5 years of experience with CAD electrical designs and drawings. Responsibilities for this position will include the following:
Create electrical schematics, layouts, and other grid plans for Rotech projects.
Develop effective, safe electrical diagrams.
Perform design computations using your engineering skills.
Prepare drawing packages that support building code specifications
Participate in staff meeting to oversee planning methods and review project needs.
Maintain highly-organized design documentation.
Translate design requirements into specific configurations.
Use CAD software to create and modify design plans.
We need a results-oriented problem-solver who can work well both on their own and in a team environment. You must be able to adhere to contractual specifications by following local regulations. Keeping projects on-track is critical, which means meeting deadline is important.
Office Secretary and Accounting Assistant at Rotech Aruba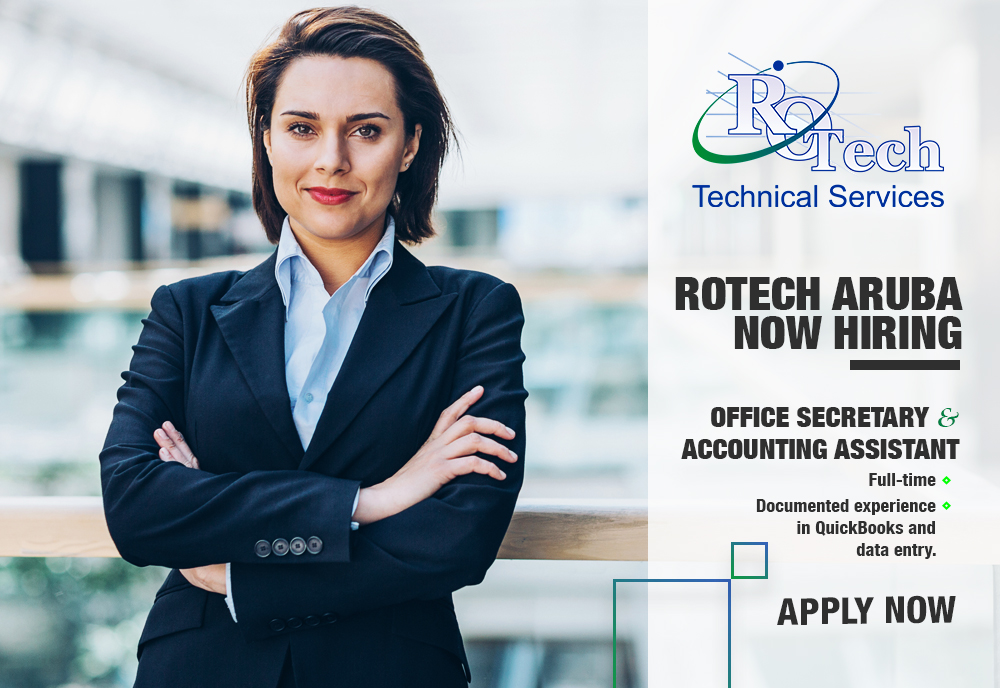 The successful candidate for this full-time position will have documented experience using QuickBooks and performing data entry. Responsibilities will include the following:
Assist in maintaining and managing customer files and other records.
Help with incoming and outgoing phone and mail correspondence as needed.
Make calls on behalf of managers to communicate information to customers, to schedule appointments or to follow up on inquiries.
Take notes during meetings, prepare memos and letters, screen mail when needed.
Copy documents for mailings or internal distribution.
Fax documents from to clients or customers and receive/distribute incoming faxes.
Routine clerical tasks and errands, cancel or reschedule appointments, order office supplies and so on as needed.
Assist with data entry and QuickBooks accounting as needed.
Communication skills are critical for this position, as are attention to detail in maintaining office systems, filing and accounting procedures. A team-oriented attitude is important along with the ability to work independently to succeed in this position.
Professional Storekeeper at Rotech Aruba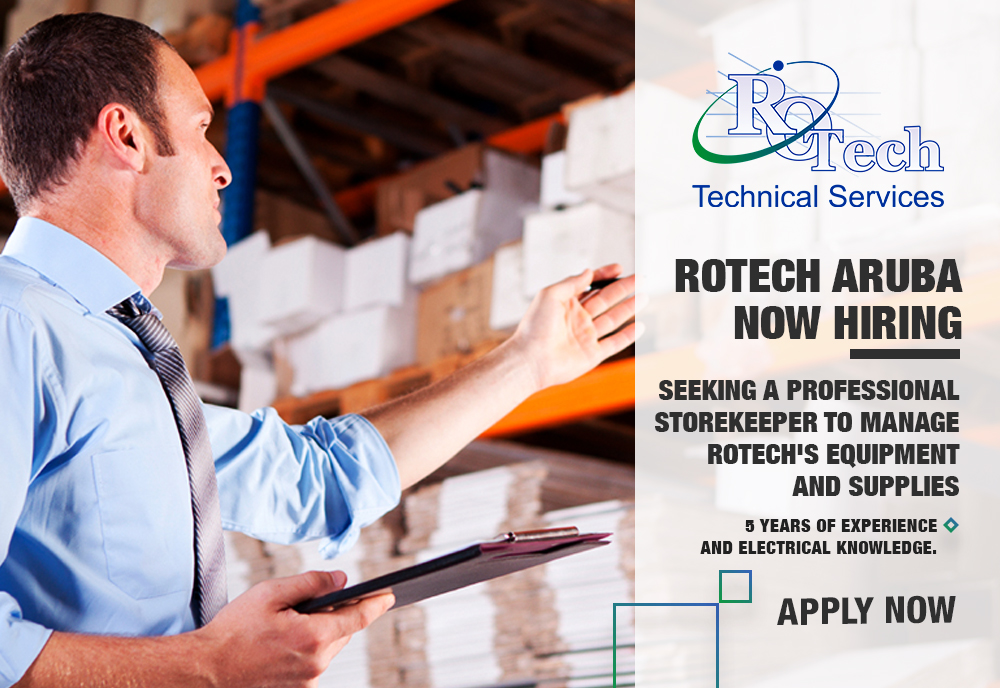 The storekeeper will be in charge of keeping track of all our inventory of equipment and supplies. This position requires 5 years of experience and knowledge of electrical equipment and related supplies and products. Responsibilities will include the following:
Maintain records detailing all equipment and supplies, including a schedule of which pieces of major equipment are scheduled to be out when and where.
Order and maintain general electrical supplies used on a regular basis so our installers have what they need when they need it.
Receive, unload, and shelve supplies.
Perform other stock-related duties, including returning, packing, pricing, and labeling supplies.
Inspect deliveries for damage or discrepancies and report those to accounting for reimbursements and record keeping.
Ensure adequate record keeping and manage all documentation to confirm proper stock levels and maintain inventory control.
Coordinate the handling of freight, the movement of equipment, and necessary minor repairs.
We are searching for an organized and detail-oriented storekeeper to play a key role in the proper care and maintenance of our equipment and stock of supplies, including ordering, receiving, and managing inventory. We want to hire a team-player who can get the job done efficiently so we know we have what we need when we need it. Attention to detail is critical in this position.
General Electricians at Rotech Bonaire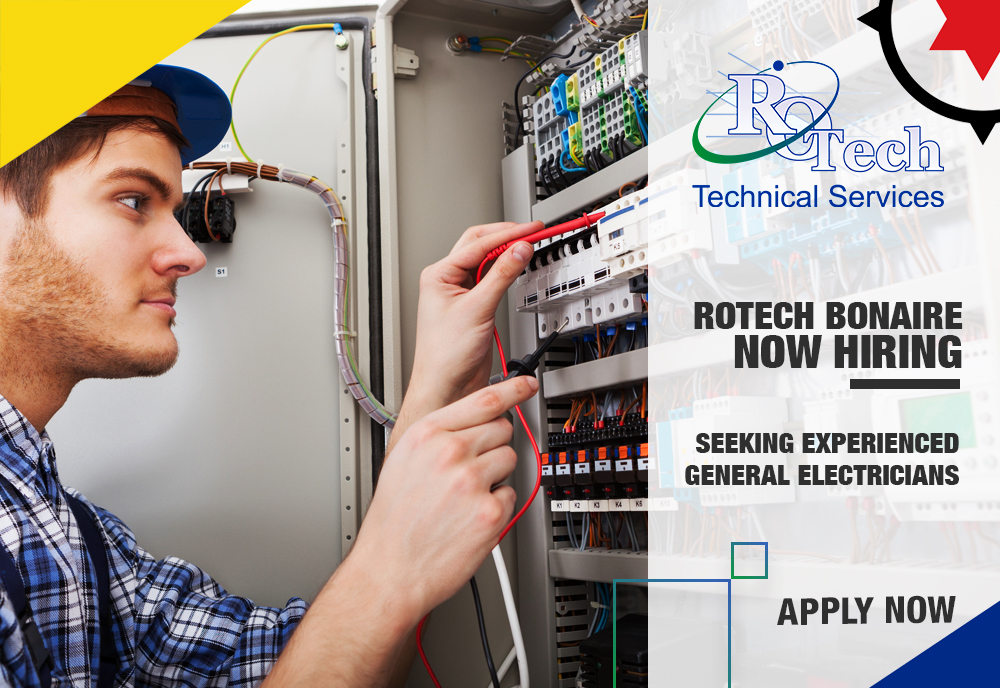 Rotech Bonaire is growing rapidly and needs to hire additional general electricians with solid experience and work history. Successful candidates for this position will be familiar with the following duties:
Install, maintain and repair electrical control, wiring, and lighting systems.
Read technical diagrams and blueprints.
Perform general electrical maintenance.
Inspect transformers and circuit breakers and other electrical components.
Troubleshoot electrical issues using appropriate testing devices.
Repair and replace equipment, electrical wiring, or fixtures.
Follow Aruban electrical codes and standards.
Circuit breaker corrective maintenance.
Good knowledge of various test equipment.
Experience working on electrical systems for hotels, resorts and retail stores is a plus for this position.
Rotech clients have included some of the best-known names in Aruba, such as Marriott, the Boogaard building, the Ritz-Carlton, the Hilton, Holiday Inn, Playa Linda Beach Resort and many others. We are known for putting in the hard to work it takes to not just meet but exceed client expectations. If you'd like to work for a dynamic company that is growing and think you're the right fit for one of the positions currently available, please send your CV by email to either jobs@bb8ddd91e5.nxcli.net. We look forward to hearing from you! Learn more about Rotech by exploring our website.
https://rotecharuba.com/wp-content/uploads/2018/10/RotechHiringCover.jpg
1080
1920
jz.dev
https://rotecharuba.com/wp-content/uploads/2018/09/rotech-new.png
jz.dev
2018-10-09 12:28:16
2018-10-09 16:58:06
Current Employment Opportunities at Rotech